Last month around this time, Kyle made his blogging debut! I guess he enjoyed himself because he is back for another round of
The Boys Behind The Blog
linkup!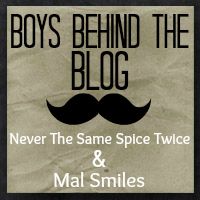 Take it away Kyle!
1. What's your lucky number?
82. It was my jersey number when I played football in high school.
2. Do you have a lucky charm?
I did, it was a Saint Michael
neckless; and then I lost it. However, my luck hasn't changed therefore I suppose it wasn't actually a lucky charm.
::crickets::
Actually Kyle, it was a Saint Christopher NECKLACE...but i'm sorry for your loss. It was clearly very special to you.
3. Do you fill out a bracket for March Madness? Who do you want to win?
Typical females
(Kyle, in the civilian world we prefer to be referred to as women.)
,
asking loaded questions. What the question is actually asking is, "do you sit on the couch and drink beer for extended periods of time?" and my answer is ABSOLUTELY NOT! Do you know who my wife is?
That's fine. Blame your lack of basketball knowledge on me. I have big shoulders.
4. March 10th is "Middle Name Pride Day." What's your middle name?
Robert. but they call my Bobby... Ricky Bobby.
Ha! We do.
5. Submit one question that would would like to see on a future The Boys Behind The Blog.
What are three things your wife/girlfriend/blogger does that pisses you off?
This sounds like a grrrrreat idea.....
_______________________________________________________________________________________________________
Phew. Let's move on to the pretty part of the post, shall we? I want to introduce you to Chelsea! We went to the same college and our husbands were even in ROTC together, but our paths never truly crossed until recently. Now, I'm proud to call this sweet woman my friend.
I hope you'll stop by Southern Charm and get to know Chelsea a little better :) While you are there steal one of her recipes because we all know you won't find any here!
Happy Thursday!