Another post brought to you by this guy...
one || Is your significant other's blog a blessing or a curse?
Yes! It's a blessing because it's something she really enjoys. However, her online shopping has increased by 200% and she is becoming more computer savvy than me, which is unacceptable.
two || Do you read your wife's blog?
Yes! It's a pre-made gift shopping list! I would be a fool not to read it.
Hmmm. I feel a wish list coming on..... and the exclamation points LOL
three || What is one thing you can do better than anyone you know?
Sleep! I can sleep like a champion. Anywhere, any time, any condition, I can sleep. Mallory is pretty good competition though, she must have her dad's genes.
#truth
NBD I was only in labor!!!
four || What is your favorite TV sitcom from the 90's?
Home Improvement! It's where I got all my "fine" carpentry skills.
I like the enthusiasm with these responses this month.
five || If you were opening a small business or shop, what would it be? What goods or services would you sell?
I have no idea.
Aaaaand we've lost him.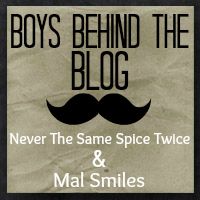 Psst:: For making it through another one of Kyle's posts you get 50% off ANY ad space! Use promo code 'MEN'