Welcome to the "hopes & plans" link up! Any hopeful or goal-oriented post is welcome! It can be your life's dreams and aspirations or simply your chore list. Share with us! I hope for this to be a place where we can come to be inspired and motivated by the things other people have in the works. The possibilities are endless! Most things in life begin by first having a hope and then some kind of plan.
|| I want to start designating a portion of the day as a "no electronics" time. This wasn't as difficult as I thought it was going to be, but I did enjoy being deliberate about it. Definitely something we will continue.
||
Take at least 10 photos using my DSLR on manual mode
. Done. But I still suck. I'm going to continue trying to practice a bit more each week.
||
Schedule Schatzi's vet appointment
.
Crushed it!
|| I want two of these hanging on my living room wall, even if I have to build them myself!
Ok. So this one is a partial fail. I don't have them hanging on my wall at this point, but we did get the ball rolling. Thats gotta count for something. ;)
This Week's Hopes & Plans
one || Update the pages on my blog.
It's just time. The photos need to be cleaned up and I just really want to simplify things.
two || Plant something colorful in the planter under our kitchen window.
Now that
the heart pond and bridge
are gone, I think Kyle and I both feel more prideful about our front yard. Last year I planted absolutely nothing in the built in planter under the window. FAIL!
three || Delete!
I'm looking at you social media apps. Sticking with my "no electronics" theme, I think getting rid of a couple social media apps on my phone would help limit the amount of time I waste bullshitting on my phone. Blogs and statuses I want to read, photos I want to look at... that stuff can be done (mostly) while the baby is sleeping or hanging out with her dad. I also want to unsubscribe to a few more shopping emails.
four || Clean my carpets.
Our neighbors have offered to let us borrow their carpet cleaner and I'm all over that like white on rice! We only have carpet in the bedrooms but EW. I do not like carpet. Between the dogs and Kyle... well, I just may have a case to rip them up, but for now, they just need a good cleaning.
five || Sell and trash.
We have a pile of crap in the garage that needs to be taken to the dump and a pretty stout list of things that need to hit the Craigslist market.
Quick story about Craigslist :: A while ago I listed the two breast pumps I have but don't use. I got a phone call from a dude claiming to be in search of a pump for his wife. (duh, he wasn't) He asked a few questions about the pump but eventually tried to shift the conversation to a discussion about my breasts! EWWWWW. So, I've been a little gun-shy on Craigslist thanks to the breast pump pervert.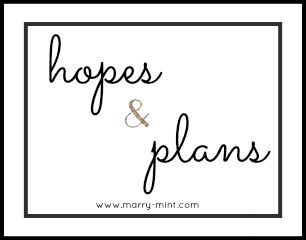 I hope you have a great Monday!
What are your Hopes & Plans?
Share them below!