Welcome to the "hopes & plans" link up! Any hopeful or goal-oriented post is welcome! It can be your life's dreams and aspirations or simply your chore list. Share with us! I hope for this to be a place where we can come to be inspired and motivated by the things other people have in the works. The possibilities are endless! Most things in life begin by first having a hope and then some kind of plan.
If we are being totally honest here, two of the items from last week's hopes & plans would not have happened had I not put it in writing. I totally forgot about them!
Here's how I did...
|| Update the pages on my blog.
Nooope.
|
|
Plant something colorful in the planter under our kitchen window
.
Done. In the process of simply planting red flowers in a simple planter I learned that I don't know jack or shit about plants/flowers/gardening. I came home from the store with flowers and potting soil, Kyle asked "did you get plant food?" Ummm what?! We feed plants now? What is the world coming to? Whatever happened to good ol' sunlight and water?
|| Delete! Later Facebook ap.
||
Clean my carpets
.
Done and I loved it! So refreshing! We may need to purchase our own carpet cleaner... any recommendations?
||
Sell and trash
.
Oh yeah! Massively decluttered over here and making a couple bucks in the process doesn't suck. ;)
This Week's Hopes & Plans
one || Decorate master bedroom wall.
With all the decluttering that took place, I was left with a completely bare wall in my master bedroom. I'm thinking of doing a small gallery wall with a white/gold/and pink theme.
two || Wash guest bedroom curtains.
I forgot that was like a "thing." Being an adult sucks.
three || Purchase something like this for our guest room.
The space just needs
something.
four || Sign Mallory up for swim lessons.
I'm liking the company
Swim Like A Fish
, but since they are so pricey, it's taken me a while to pull the trigger.
five || Update the pages on my blog.
For real.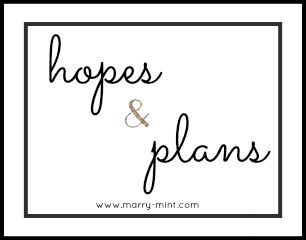 What are your Hopes & Plans?
Take it away!